Building Basics ~ Lessons for Beginning Builders by Cera @ The Simmers Society
Lesson 1 - Creating a functional layout
When we all start building the first thing we do is create a huge square house (a big box) with huge rooms. It takes our sims an hour to walk from the bedroom to the kitchen. We don't worry about routing problems because everything is so far apart most of our house is full of empty space. While the space is nice, it doesn't make for good "playability". At the same time, we don't want to pack a bunch of stuff into an itty bitty room because our sims start stomping their feet and refuse to use anything. We need rooms that are just right.
For lesson one, you're going to create an out of the box house by building the house room by room. The house you are creating is for a single sim, and your goal is to have functional room sizes and a house that is not a box. It needs to be a single story home with 1 bedroom, 1 bathroom, a living room and an eat in kitchen. Build on a small lot, 30 x 20. There are no budget restrictions.
Before you start building, it's important to make sure the location your building on is level. For this lesson, use the level lot tool to ensure you build on a level surface. If you don't, it can cause problems later.

Room sizes are dependent on different factors and these should be considered when designing a home from a size of a starter up to a mansion. It needs to fit the style as well as the purpose of the build. For instance you would never have a grand size bedroom with a master suite in a starter.
The main factors to consider when choosing an appropriate room size are as follows:
- What sort of build is it? Is it a starter, loft, family home or a themed creation?
- How many people will be living in the house?
- Do you plan on expanding the house after the initial construction?
- How many functions must the dwelling have?
The amount of activities in a room and the rate at which it gets used is also an important consideration. A study might only be used for a few hours a day and might have a bookcase and computer so it only needs some single chairs and a desk, so therefore doesn't need much space. A living room on the other hand is used a lot for many activities so ensure you supply room for the different activities you are going have in the room. Remember a lot of living room items have multi functions such as the tv or stereo so ensure you leave enough space for the function that uses the largest space to keep sims happy if they want to dance or workout.
The shape of the furniture tends to dictate the ideal shape of the room as well. For instance consider couch arrangements, one 3 seater and a 2 seater has a rectangular shape so it tends to look good in a rectangular room. It fits neatly without leaving dead areas that need to be filled. Saying that it depends on the layout you envision. Having some idea of the flow of the interior prior to building will allow you to design a home to fit the lifestyle you want to create.
Now onto the nitty-gritty; here is a basic rundown of ideal room sizes based on house type. This is by no means a strict rule but for those new to building will allow you to develop your skills as builders.
Starter home (1-2 bedrooms):
livingroom - 5x4
bedroom (main) - 4x5 to 5x5 depending on budget
second bedroom - 3x4 to 4x4
bathroom - 2x3 or 3x3
kitchen - 5x4 or try galley kitchens. Usually incorporates eating area
Small family home (family of 4)
livingroom - 6x5 - 7x6
bedroom (main) - 5x5 to 6x6
second bedroom - 4x4 or 4x5
bathroom - 3x3 for ensuites and 3x4 for master bathroom
kitchen - 5x5 to 6x10 depending on design
dining room - 5x5 to 5x7
study - 4x4 to 5x5
large family home (family of 6)
livingroom - 6x5 - 7x6
bedroom (main) - 5x5 to 6x6
second bedroom - 4x4 or 4x5
bathroom - 3x3 for ensuites and 3x4 for master bathroom
kitchen - 7x7 to 6x10 depending on design
dining room - 5x5 to 5x7
study - 4x4 to 5x5
There are some rooms that get bigger as the house gets bigger, but don't forget that just because you are building a huge house doesn't mean the rooms follow the same pattern. Keep them manageable. If you can fit 2 full sets of the furniture you want to place in that room then it's too large. It will be overwhelming to decorate and not optimized for playing.
Now you should have an idea of space that you need. Think about the sim you're creating the house for and consider what you need in each room. You'll want seating and entertainment in the living room and maybe a skill item (an easel for artistic sims, desk and computer for writers). In the kitchen, make sure you have at least one counter free of any objects for your sims to prepare meals.
Feel free to place furniture while you build, this will help keep your rooms from becoming overly spacious and you can adjust the room size to accommodate any skill items that your sims need. A little extra space is good to have, especially in places like hallways where one tile spaces can cause foot stomping.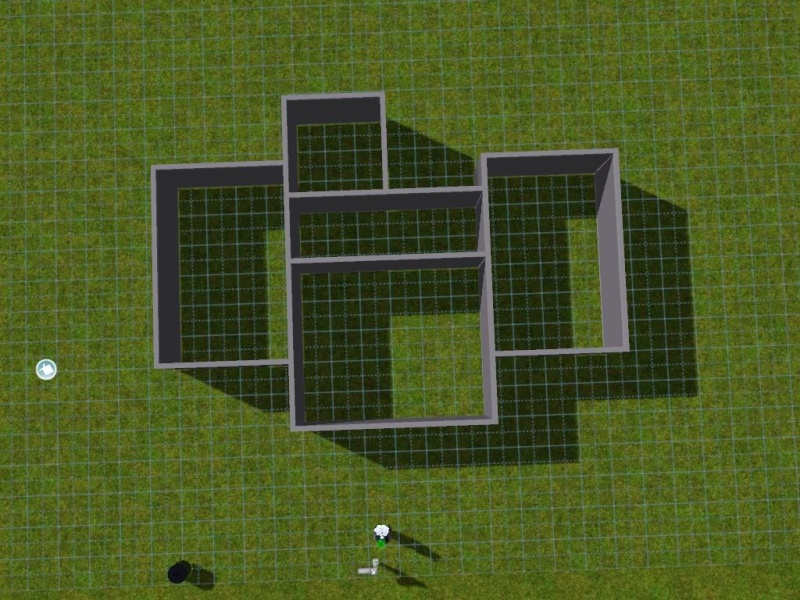 You and place windows and doors (you can even use archways) now, or wait until after you have applied your siding. You do need to think about your furniture layout when placing them. Make sure each room has plenty of natural light (from windows), but make sure you leave room for wall art too. You'll want placement of these items to be symmetrical. It doesn't have to be perfectly symmetrical, just well balanced. Placing your windows from the outside can help you achieve this look. Use only windows and doors that are of similar style. Different styles will clash, and don't use a bunch of different windows and doors even if they are similar. The best rule of thumb is less is more! Avoid placing either in corners, and make sure you don't place your door where you could potentially have routing problems.
Next up is choosing your siding! Siding can be found in several places in the wall paper tab, but we're going to use the simplest. Under the wall paper tab, you will find several options. Under sets and siding, you have sets of wallpapers that when combined give a more realistic, detailed appearance. Pick a wall covering that has a right and left detail. Place the detail edges on the outer corners of the house. This will give your exterior much more interest than it would have with just the siding.

Without detailed edging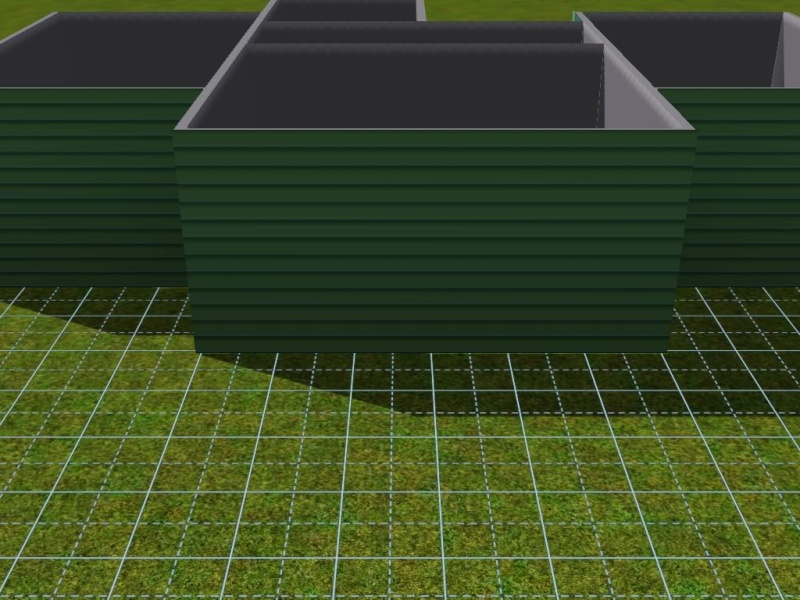 With detailed edging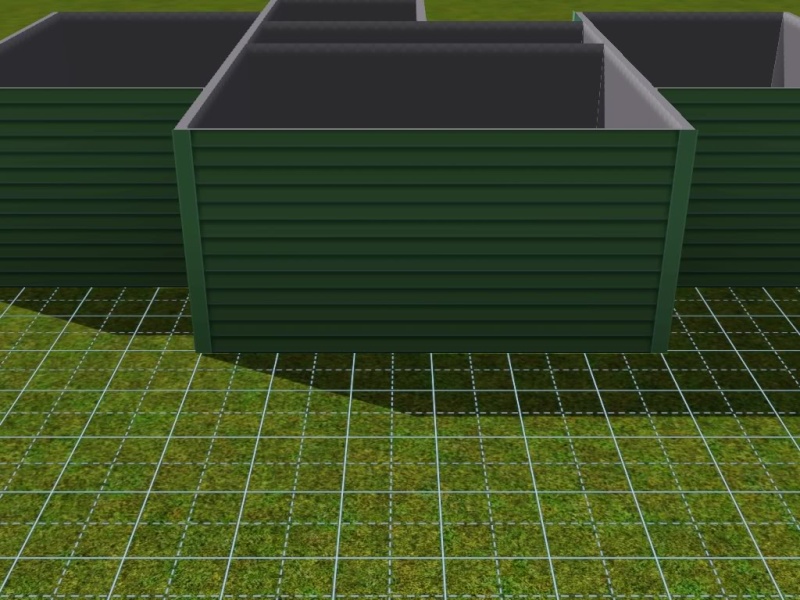 Placing your own roof is very easy and is much better than letting the game place a roof for you. First rule in Sims 3 roofing: Never use autoroof -- unless you just want to see it for the amusement factor. Sometimes, they will actually look pretty good, but in most cases, it is best to add your own roof. So first, turn off autoroofs, and then remove all roofs. You may find it helpful to tilt your view so your looking straight down on the house.
Once you have added this, consider the style of home you are building. The different roof styles will give different feels. For a basic ranch, you may want to use a full gable or full hipped roof. A modern roof will often be flat or asymmetrical.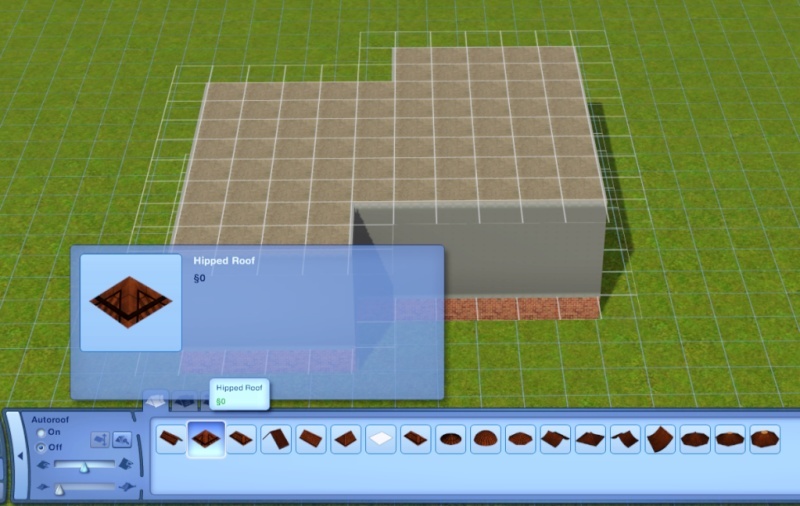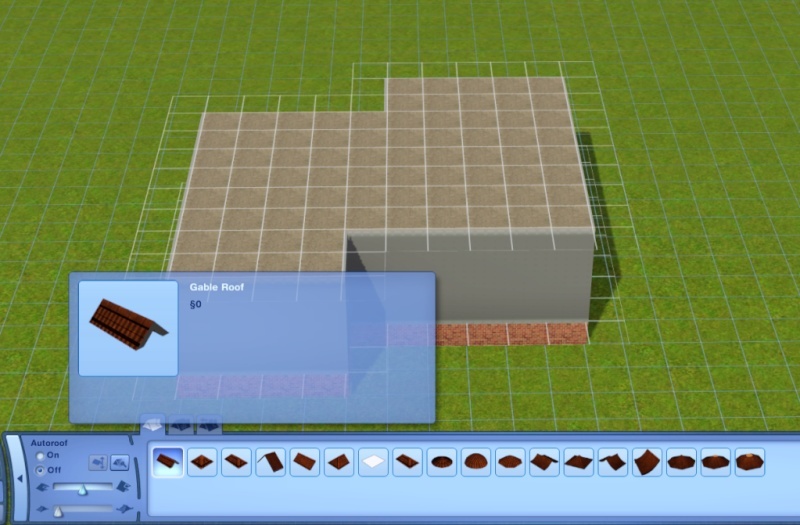 Once you have selected your roof style, go up to the highest level of your home. Look at the shape from overhead. There will generally be one section that is larger than the others. Use your roof tool and drag all the way across the largest section, from one side to the other, covering that section front to back.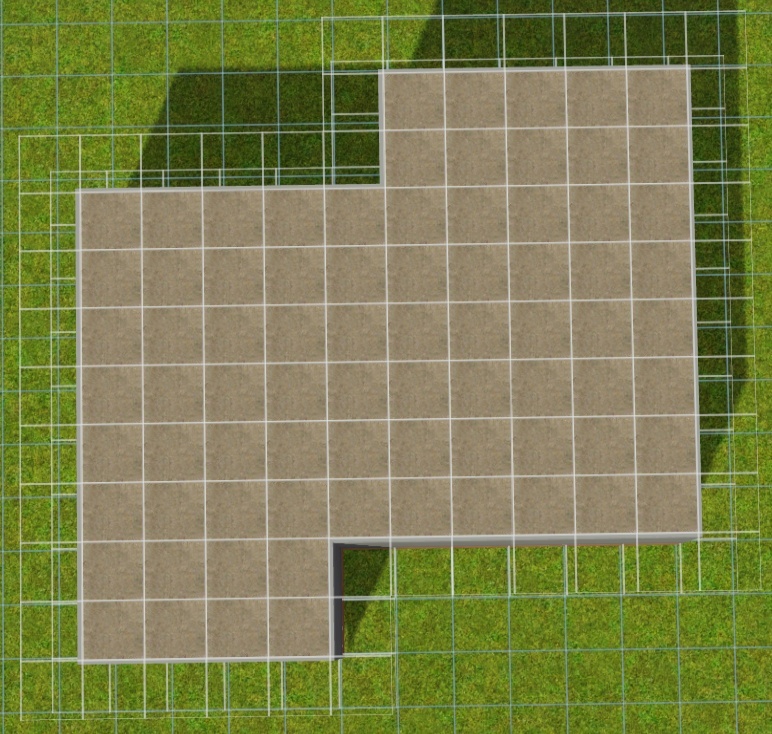 It's okay if the smaller sections aren't covered yet, they get their own roof. Now, do the same for each smaller section, only add these roofs at a 90 degree angle to the larger section. You should drag them all the way into the larger roof section until the back edge does not show at all. Once you are finished, check to be sure you have covered the entire house.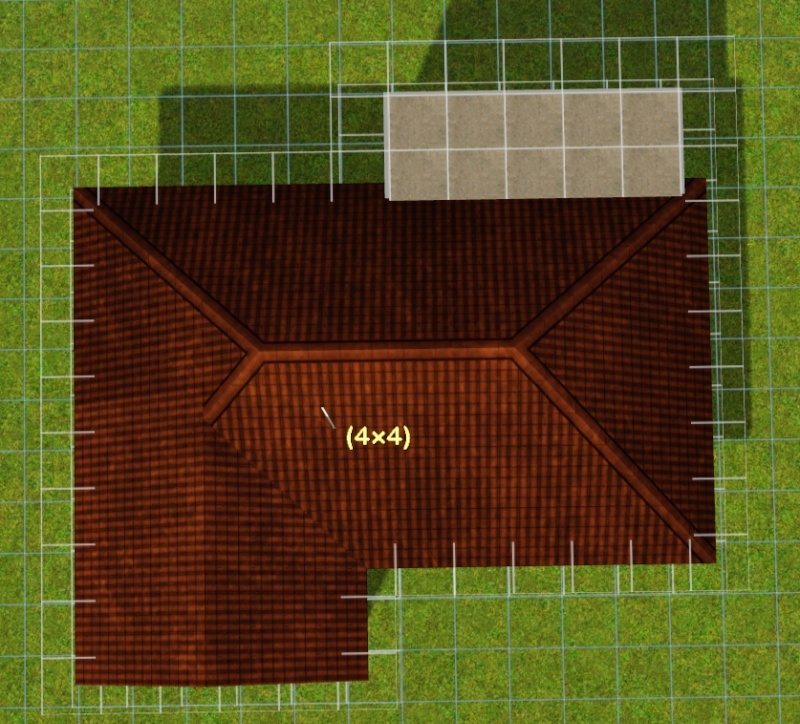 Make sure there are no "valleys" in your roof. Think of what would happen if it rained. You don't want there to be anywhere that the rain would run together and cause leaks. It should all run right off the roof.
When you have a roof style and shape you are happy with, you are ready to choose a color. Go through every color we have, because sometimes you'll find one that you wouldn't have thought of for that home. It should complement your siding color, and not blend in too much. Consider if the color overpowers the home, or adds to the appeal.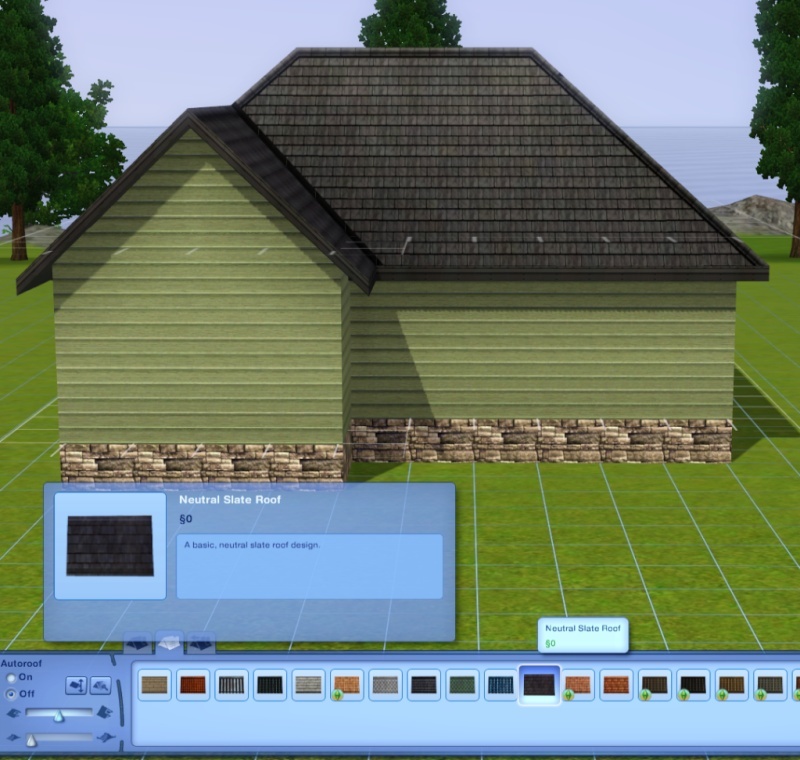 Do not decorate your interiors or do any landscaping just yet, as this lot will be needed for future lessons.