I'm sorry for making you type everything out, but I just needed more info. The problem I think is the Riverview lite base you used. Your game still thinks it's the same file, even though you've renamed, and resaved.
This is what you will need to do if you want to be able to install it, and play it.
1. Open Caw, and open a
New
World with these settings;
Large, Flat, Height 300.
Name it what you want your real world to be, save, and close.
2. If you don't have s3pe you will need to download it here;
Simlogical and the Dead End Nights
This is a free program created by Peter and Inge Jones, who have been in the modding end of the sims community for a long time.
Okay, now you've downloaded s3pe.
On your desktop, create a new folder, because you'll need a temporary place to put your exported .world files into.
Open up S3pe, click on "File" on the bar at the top, click on "Open", and find your .world file that you have completed, but won't install correctly. The Riverview lite one.
It should be in;
Documents,
Electronic Arts,
Sims 3 Create a World
UserToolData
Worlds
It should look like this, I'm opening up my WhovilleBeta;
Make sure you click the "All Files" option, or your .world file won't show up.
Once you open it up, this is what it will look like;
Now, you want to export all of those files to that folder you just created on your desktop. I click on the first file, hit and hold Ctrl and Shift keys, scroll all the way to the bottom and click on the last file. This will take awhile for all the files to get highlighted, but when they are, right click on those files, and choose "Export" ; "To File" and find your empty folder you made and click on it.
Close that .world, and open up the New .world you just created in Caw.
Click on "Resources" at the top of the page, then "Import", "From File", and choose the file you just exported all those other files to.
Now just hit the Ctrl + A keys to select all of the files in the folder, and click "Open". This is what you'll get. When the window pops up check;
Replace Duplicates
Compress,
use resource name
Just click "import", and then click on "file" on the top bar again, and "Save".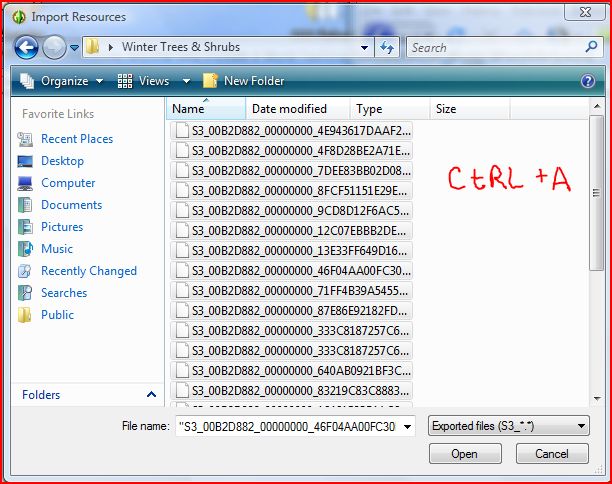 Open up Caw, and open up the new world, and see if everything looks like the old one. if every things okay, export it and try to install.