First you need a 24bit .png image. If you don't have Paint.net go download it now. It's free and you'll use it all the time, at least I do. I also use Gimp which is also free, but it won't give you a choice of 24 bit.
Now if you don't have an in game pic of your world go into Caw and get one. You can either go into edit in game and take a snap shot or hit shift and print screen.
Open up paint.net and either paste your image if you did the prtscr, or go get your snap shot which will be in;
Documents,
Electronic Arts,
Sims 3
Screenshots
Just drag and drop onto the paint.net screen.
Crop the Image
Use the rectangle tool to make a square over the image. be sure to make it the same height and width. then go up to the top menu bar and click on Image, then click the first "Crop to Selection". Then click on "Resize" right below "Crop to Selection", and under pixel size put in 256.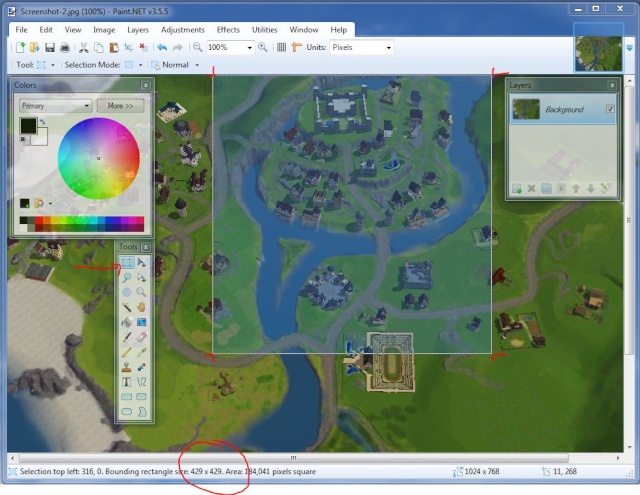 So, we're going to crop the image to 256x256 pixels, then "save as"
Click on the "save as type" PNG
Now a little box will come up and you click the 24 bit.
Put the png image where you can find it, and load Caw.
Tip: Make a folder for your .png images that will not be moved, like in your documents folder. Place your .png images there. If your not completly finished with your project, and the .png gets moved, then the link you've made for yor image will be broken, and the default world image will take it's place.
......................................................................

In Caw under World Layers the first line will be the name of your world. Right click on that, and click on Add/Edit Description. Hit the browse button and find your png image. Now add your description.
Make sure you Save at this point before you export.
Tip: Once you've "Exported world" it will be in your Launcher under uploads. If you don't want to upload to the exchange click on "show file" a window will pop up with the Sims3pack. Just double click on that and your world will install. Remember, you can only upload your world to the exchange once. If you upload before it's ready and then delete it from your studio, you still will not be able to upload it again.
I hope this made sense, I kind of rattled on.
Let me know if you have any problems.